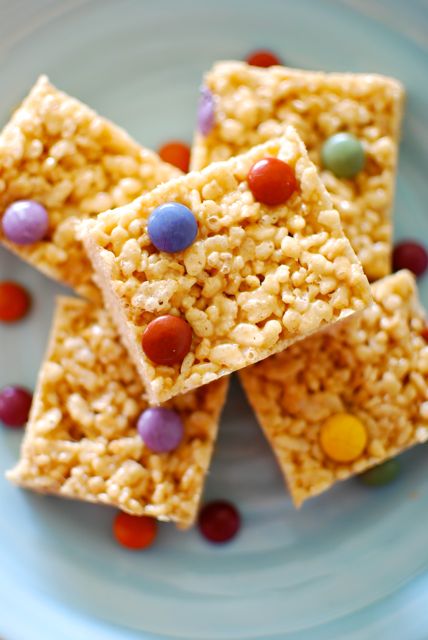 Rice Krispie Treats are the only food I can't keep in my house.
Every time I make these sweet & chewy little squares, I swear that I'll just have a couple then share the rest with friends. But inevitably, I end up eating the whole batch myself in just a day or two 🙂
This exact scenario happened again this week.
I could blame it on pregnancy or being cooped up with a sick kiddo, but I won't.
Instead I'll just share my "recipe" (if we can even call it that) along with a few ways I make these treats slightly healthier. And I'll also recommend you make these when you have some place to take them!
Peanut Butter Rice Krispie Treats
A healthier, more natural version of your favorite Rice Krispie Treats from childhood!
Ingredients
3 Tbsp organic butter
¼ cup natural creamy peanut butter
10-oz bag mini marshmallows
6 cups Erewhon Crispy Brown Rice cereal
Dye-free chocolate candies, or chocolate chips for sprinkling
Instructions
Melt butter in a large saucepan over medium-low heat.
Stir in peanut butter, then add marshmallows and stir constantly until melted.
Remove pan from heat and add cereal.
Spray an 8x8 glass baking dish (or pie plate) with nonstick cooking spray or rub with an oiled paper towel, then pour cereal mixture into the dish and press gently with oiled hands until mixture is even throughout.
Sprinkle dye-free chocolate candies, or chocolate chips, on top of the cereal bars and press in gently with your fingers.
Let cool then cut into squares and enjoy.
Notes
Add more pizzazz to your treats by stirring chopped peanuts or golden raisins into the marshmallow mixture along with the cereal.
What's healthier about this recipe:
Organic cereal whose only ingredients are: organic brown rice, organic brown rice syrup, sea salt.
Organic butter replaces regular butter or margarine.
Natural, trans-fat free peanut butter adds a little protein, healthy fat, and makes the treats more satisfying.
Toppings (optional) are naturally colored and flavored.