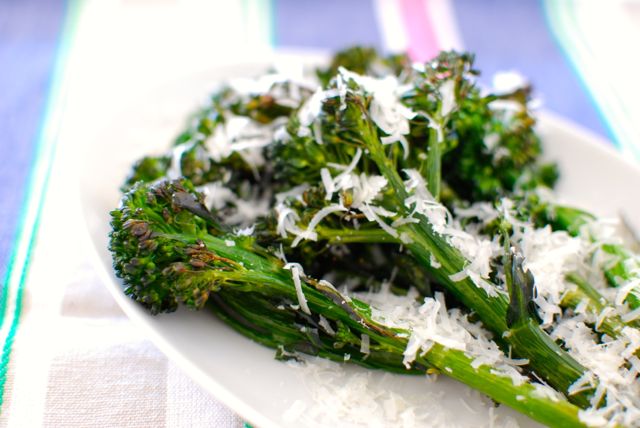 Oh how I LOVE the beginning of a new year, not only for the hope and potential that lies ahead, but because it's when we all turn our focus from cookies & cocktails to vegetables: my favorite 🙂
Throughout the entire month of January, I'll be featuring all kinds of salads on here the blog – both my own recipes and those of my healthy food blogger friends – as well as some salad-making tips and tricks.
The Month of Salads will begin on Friday January 3rd.
So today, I wanted to share one of my favorite (non-salad) veggie recipes: Roasted Broccolettes with Parmesan and Lemon.
Ever since I visited Earthbound Farm in October, when I saw and tasted these sweet little broccoli babies right in the field,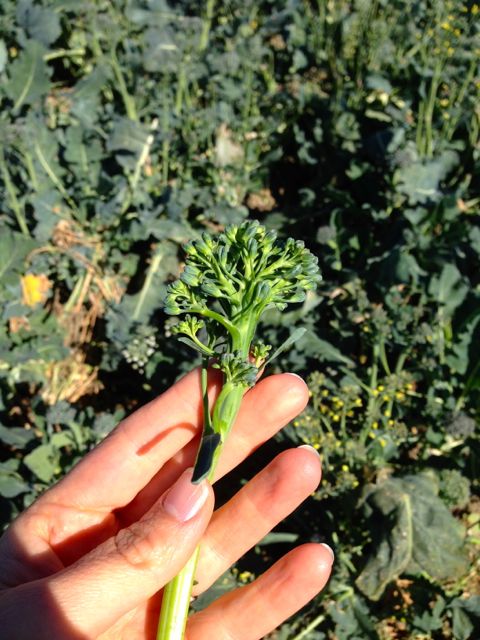 this dish has become a staple in our house. I rarely buy regular broccoli anymore; these broccolettes are just so much sweeter. Plus, at Vons/Safeway, you can get a huge 2 lb bag of them for only 5 bucks.
Here's how to make them:
Trim the ends of the broccolettes, then toss with olive oil and salt and lay them in a single layer on a parchment or foil-lined baking sheet.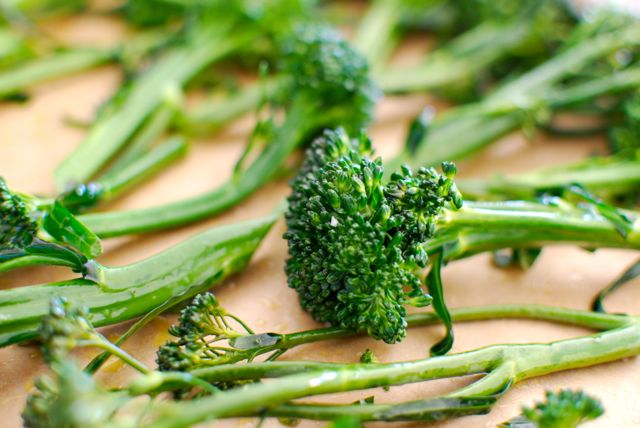 Bake at 425 for 11-13 minutes, or until some of the florets are brown and crispy (but not burned-looking).
Remove the broccolettes to a platter and top with either freshly grated or shaved Parmesan cheese.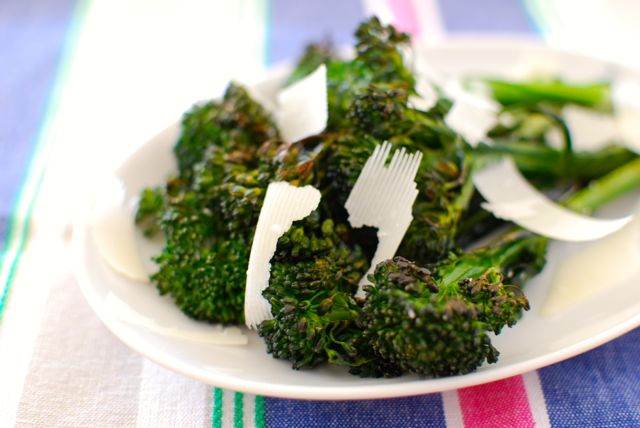 Drizzle with a little lemon juice and serve..
By the way, these are also great for snacking. I added them to a cheese platter recently and they were a hit!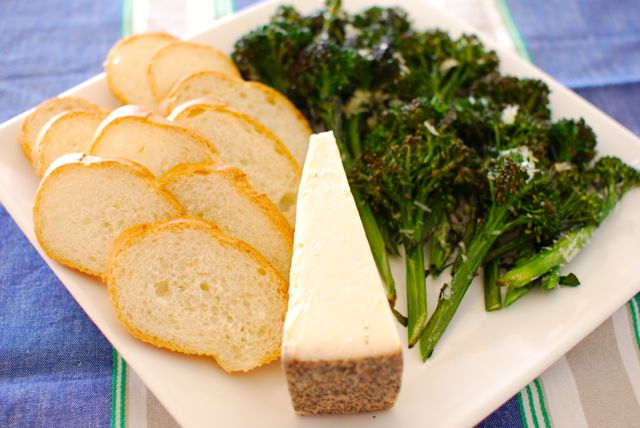 Happy New Year!!
Roasted Broccolettes with Lemon and Parmesan
Roasting broccoli makes it crisp and crunchy, almost like a French fry (really!). These broccolettes get jazzed up even more with nutty Parmesan cheese and fresh lemon.
Serves:
3-4 side servings
Ingredients
1 lb Earthbound broccolettes (baby broccoli)
3 Tbsp olive oil
½ tsp salt
¼ cup grated or shaved Parmesan cheese (or more to taste)
Juice of ½ a lemon
Salt & pepper to taste
Instructions
Preheat the oven to 425 and line a baking sheet with parchment paper or foil.
Trim the ends of the broccolettes and cut any large stems in half lengthwise.
Toss the broccolettes with the olive oil and salt, then lay in a single layer on the baking sheet.
Roast for 11-14 minutes at 425, or until some of the florets have gotten brown and crispy.
Let cool 3 minutes, then remove broccolettes to a platter, sprinkle with the Parmesan and drizzle with lemon juice.
Serve warm or at room temperature.
This post is part of my partnership with Earthbound Farm, and is a sponsored post. Thank you for reading and supporting Eating Made Easy!