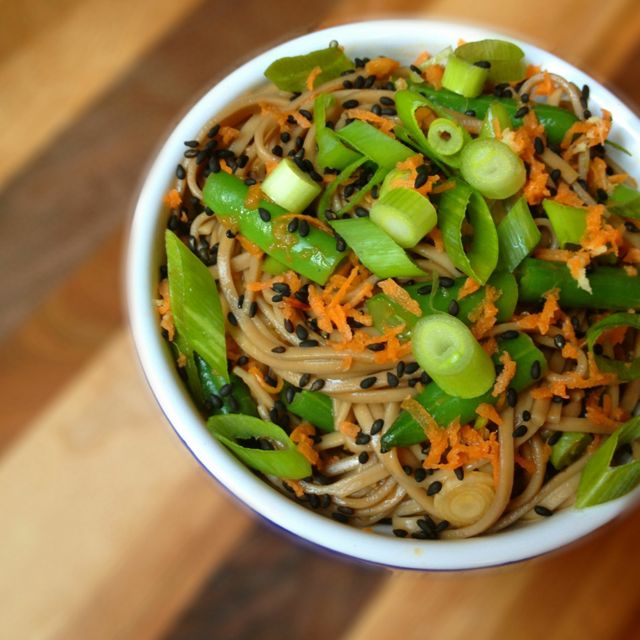 Sometimes you want the healthfulness of a salad without having to eat a big bowl of leafy greens.
Thankfully, salads come in a wide variety of forms. And just because they're noodle or potato-based doesn't mean they can't be healthy.
Take this Soba Noodle Salad with Sesame Ginger Dressing, created by my friend Liz of The Lemon Bowl. Not only is it packed with green beans and carrots, it's also made with fiber-rich buckwheat noodles to help keep you feeling satisfied.
Plus, as with all of Liz's recipes, this noodle salad tastes absolutely amazing!
Soba Noodle Salad with Sesame Ginger Vinaigrette
Soba noodles and vegetables are coated in a flavorful sesame ginger soy vinaigrette that is perfect served warm, room temperature or cold.
Ingredients
8 oz Japanese soba noodles
2 cups green beans – trimmed and cut in 2 in. pieces
1 medium carrot – grated
½ cup scallions – minced
2 tablespoons black roasted sesame seeds
salt and pepper to taste
For the vinaigrette:
2 tablespoons lime juice
2 tablespoons soy sauce – low sodium
1 tablespoon sugar
1 tablespoon grated ginger
1 tablespoon sesame oil
½ tablespoon sambal oelek (a chili paste) - option
Instructions
Bring a large pot of salty water to boil and add soba noodles. Cook according to package instructions adding the green beans 2 minutes before the end of cooking time.
Drain noodles and green beans in a strainer and rinse with cold water to stop cooking process. (This keeps the beans bright green.)
In the bottom of a medium bowl, whisk together the vinaigrette: lime juice, soy sauce, sugar, ginger, sesame oil and sambal oelek.
Add the soba noodles and green beans to the bowl with the vinaigrette along with the grated carrot, scallions and black roasted sesame seeds. Toss well to coat and season with salt and pepper to taste before serving.
Notes
Top the noodles with tofu or shredded chicken for an even heartier meal.
Nutrition Information
Serving size:
2 cups
Calories:
328
Fat:
8.5
This recipe was created and photographed by Liz Della Croce, blogger at The Lemon Bowl. Not only does Liz share delicious recipes (that just happen to be healthy), she also offers healthy living tips and proven weight loss strategies both for moms and for everyone. I've made tens of recipes from Liz's site and every single one has become a family favorite!