Sometimes I want a super quick side salad that's different from just greens with vinaigrette. This cucumber mint salad with yogurt dressing is exactly that.
The crisp cucumber, fragrant mint and tangy yogurt make the most refreshing combination. I've even added grilled chicken, sliced tomato and crumbled feta to a bed of this salad for a main meal. It's so easy and so delicious!
The keys to a great cucumber salad are to use good whole milk yogurt (nonfat just isn't the same!) and a sweet, tender cucumber – like Persian, Japanese or English.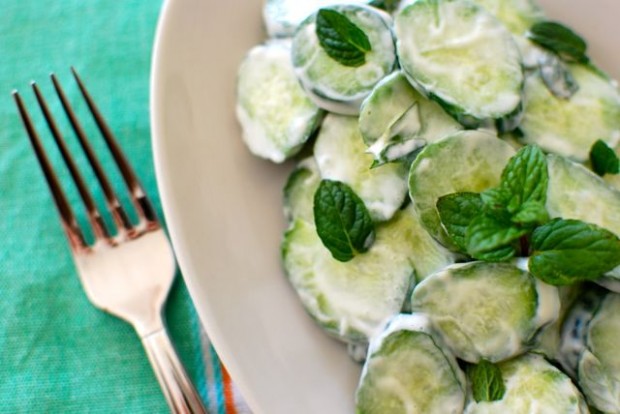 Cucumber Mint Salad with Yogurt Dressing
Ingredients
4 Persian cucumbers (the small, thin-skinned ones)
Juice of ½ a lemon
½ cup plain whole milk yogurt
Small handful of mint leaves, torn
Salt & pepper to taste
Instructions
In a medium bowl, whisk together the yogurt and lemon juice. Add a pinch each of salt and pepper.
Thinly slice the cucumbers, then add them to the bowl along with desired amount of torn mint leaves.
Toss all ingredients together and serve.
Notes
If you don't care for mint, substitute any other fresh herb you like. Parsley and dill are also great in this salad.

Store any leftovers in the fridge for up to 3 days.