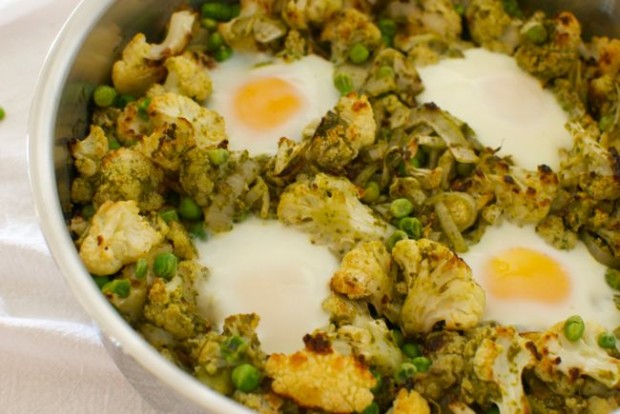 I love vegetables. Like really love them. In fact I think they're my favorite food group…after the ice cream and cheese group, that is. 😉
But you know what I do not enjoy?
Plain steamed vegetables. Mushy vegetables. Bland vegetables.
These commonly served dishes make veggie-eating seem like a chore, and hardly highlight the delicious variations in color, flavor and texture that vegetables offer.
So today I want to share with you a vegetable creation that's the complete opposite of bland and boring:
Roasted Cauliflower with Peas, Pesto and Eggs
Though this dish is nearly all vegetables, I think you could serve it to your heartiest eater without a single complaint. It's that good.
What's even better? The whole thing can be made in just one pan (a killer Le Creuset pan that you can enter to win at the bottom of this post!!) with just a handful of simple ingredients.
It's healthy, incredibly flavorful, and has quickly become my family's new favorite vegetarian dinner.
Here's how to make it.
Gather your cauliflower, frozen peas, eggs and pesto (I used this pesto with some fresh basil thrown in, but you could use any pesto recipe you like or even store-bought. Add the juice of half a lemon if your pesto doesn't already taste bright and tangy – you really want a lemony taste for this dish!).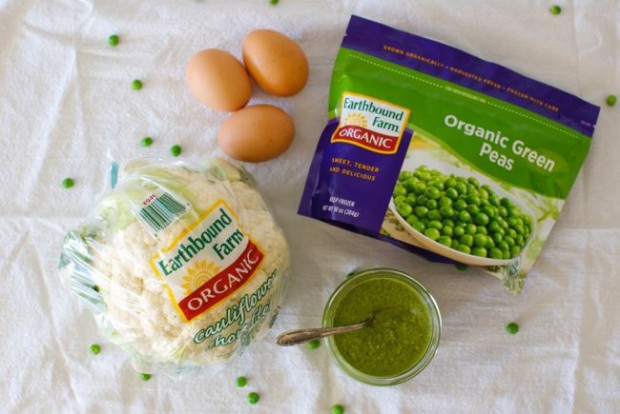 [Note: I always choose Earthbound Farm veggies whenever they are an option. Partly because they're organic, but also because I find their produce – whether fresh or frozen – just tastes better than the alternatives. Must be that beautiful land and those dedicated farmers.]
Cut your cauliflower into florets and sauté with olive oil and a small sliced onion in your sauté pan until they start to brown.
Place the whole pan in a 425 degree oven and roast for about 10 minutes or until cauliflower has softened.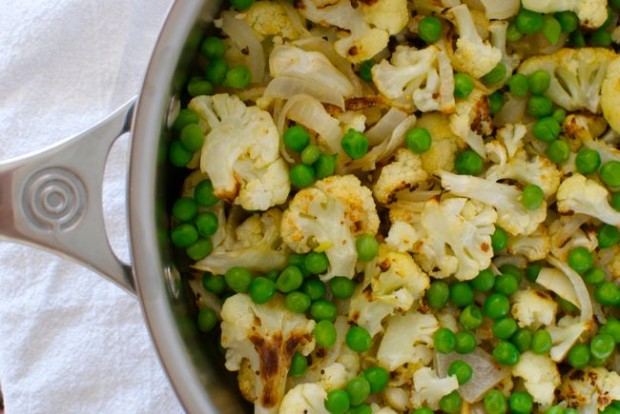 Remove pan from oven (make sure to place a potholder over the handle – sounds obvious but I've forgotten before and it huuuuurts!) then stir in the frozen peas and pesto.
Using a spoon, create little holes in the veggies where you'll drop the eggs.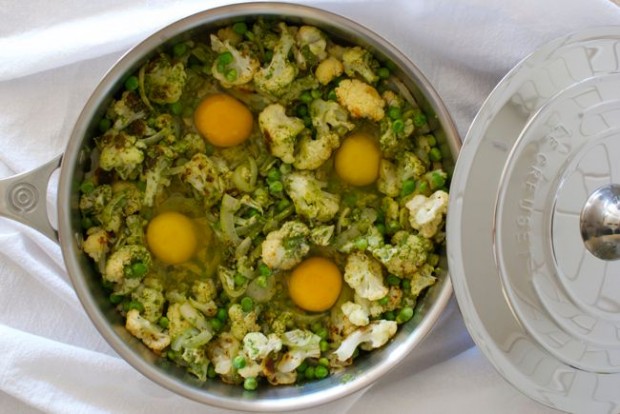 Return the pan to the oven and bake until the eggs are cooked through, about 10-15 more minutes.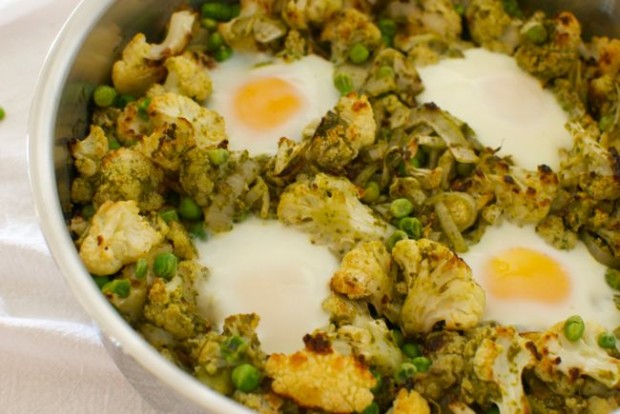 That's it!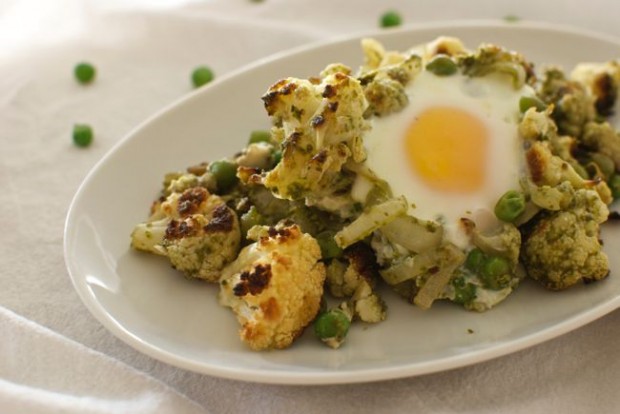 I like to serve this with a thick piece of rustic bread & butter, but it's satisfying enough to eat as-is, too. It's also delicious when topped with a little squeeze of lemon or a sprinkle of Parmesan cheese.
Below is the step-by-step recipe, as well as your chance to enter to win this Le Creuset 3-quart Stainless Steel Saute Pan – a $200 value!!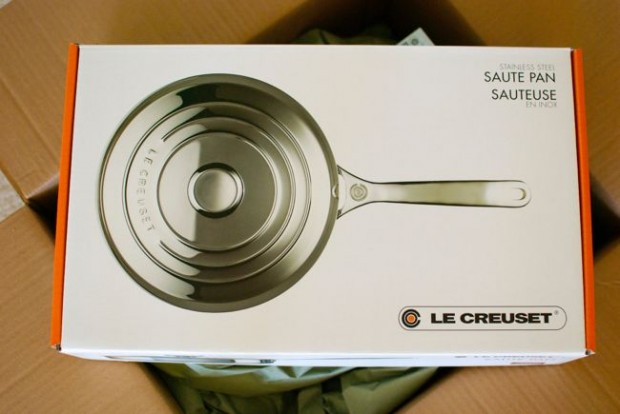 GIVEAWAY (giveaway ended)
a Rafflecopter giveaway

You can also enter to win this pan plus MORE Le Creuset pans, cookbooks and free product coupons over on Earthbound Farm's Facebook page as part of their Holiday Giveaway. Visit their page to enter!
Baked Eggs with Roasted Cauliflower, Peas and Pesto
This unique vegetarian dish is incredibly flavorful and only requires a few ingredients!
Serves:
2 entree servings, or 4 smaller servings
Ingredients
3 Tbsp olive oil
1 head Earthbound Farm cauliflower, cut into small florets
1 small-medium onion, sliced
1 cup Earthbound Farm frozen peas
¼ cup pesto of your choice
4 organic eggs
Kosher salt
Lemon wedges and Parmesan cheese, for serving (optional)
Instructions
Preheat oven to 425.
Add the oil to an oven-proof sauté pan or skillet and heat over medium heat.
Add the onion and cauliflower florets, along with a generous pinch of salt, and sauté for 5-8 minutes or until veggies begin to brown.
Place the whole pan in the oven and roast veggies for 10-15 minutes or until softened.
Carefully remove the pan from the oven and stir in the peas and pesto.
Create four little divots in the veggies and crack an egg into each hole.
Return to the oven, reducing heat to 400, and bake for 10-15 minutes or until eggs are cooked to your liking.
Serve with a squeeze of lemon and a sprinkle of Parmesan cheese, if desired.
Notes
Remember to place a pot-holder over the handle of the pan before removing it from, or returning it to, the oven so as not to burn your hand! It's easy to forget!
This post is sponsored by Earthbound Farm, as part of my ongoing partnership with them. Thank you for reading and for supporting both my blog and organic producers who are helping to protect our health and the earth!