Before having kids I used to work as a personal chef. Each week I would create a new menu plan with different recipes for all my clients, but often they would love a dish so much they'd request it over and over again.
One of my favorite clients became downright obsessed with my stuffed peppers – so much so that she requested them every week. This got a little boring (for me, not her), so I started stuffing different seasonal vegetables with the same filling, or tweaking the filling ingredients slightly, so we could both enjoy more variety.
That's how these Southwestern Stuffed Acorn Squash came to be. To this day, they are still one of my favorite dinners!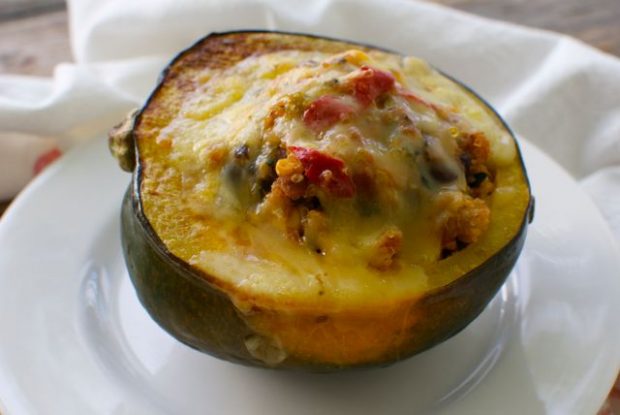 You can customize the squash filling however you like – with rice, different kinds of beans and veggies, or any kind of salsa. I love using quinoa and chipotle salsa for their nutty and smoky, roasted flavors.
Enjoy!
Southwestern Stuffed Acorn Squash
A nutritious, flavorful, veggie-packed dinner that can easily be made ahead or frozen for busy weeknights.
Ingredients
2 large acorn squash
2 Tbsp olive oil
1 small onion, diced
1 bag frozen bell pepper strips
1 tsp ground cumin
1 cup salsa (I like Chipotle or fire-roasted)
1 can black beans, rinsed and drained
1.5 cups frozen corn kernels
2 cups cooked quinoa
½ cup fresh chopped Cilantro
1 cup shredded Pepper Jack cheese
hot sauce (optional)
Greek yogurt for serving
Instructions
Preheat oven to 400 degrees.
Line a baking sheet with foil or parchment paper
Cut squash in half and remove the seeds (Note: acorn squash can be difficult to cut. Place whole squash in microwave for ~3 minutes to soften - this makes it much easier to cut!)
Rub the flesh side of each squash with oil and sprinkle with salt, then place flesh side-down on the baking sheet.
Bake squash for 20-25 minutes or until fork-tender.
Meanwhile, heat a large skillet over medium heat. Add 1 Tbsp oil and the chopped onion and cook until onion has softened slightly, about 3-4 minutes.
Add the pepper strips and sauté another 2-3 minutes, then add the cumin and corn and cook until warmed.
Remove from heat and stir in the black beans, quinoa and cilantro.
When the squash has finished cooking, remove it from the oven and stuff each quash half with a generous amount of the filling.
Sprinkle ¼ of the shredded cheese on top of each filled squash half and bake again until filling is warm and cheese has melted and browned (about 10-15 minutes).
Serve with hot sauce and yogurt, if desired.