Tell me the truth. How many of the spices in your cabinet do you really use with regularity?
Unless you're an avid cook (and even then), probably not more than a few. Right?
I used to be the same way. Until a couple years ago, when I decided to pare down to the spices I truly cook with frequently. It was very freeing!
Now I can easily find what I need, I'm more familiar with how to use and combine my go-to spices, and I waste less food and money.
Everyone will have a slightly different set of "essentials," depending on their family's tastes, favorite recipes and culture. But below are the basics I can't live without, and what kinds of dishes I make with each spice or herb.
For those few times I am making something out-of-the-ordinary, I either buy a tiny bit of the needed spice in bulk, or try to find it fresh. Or, I just substitute one of my regulars, which almost always works out just fine.
Simplifying my spices and pantry ingredients has made my cooking life so much easier, and I hope it will for you too.
My 9 Must-Have Spices for Easy Meals
The Savory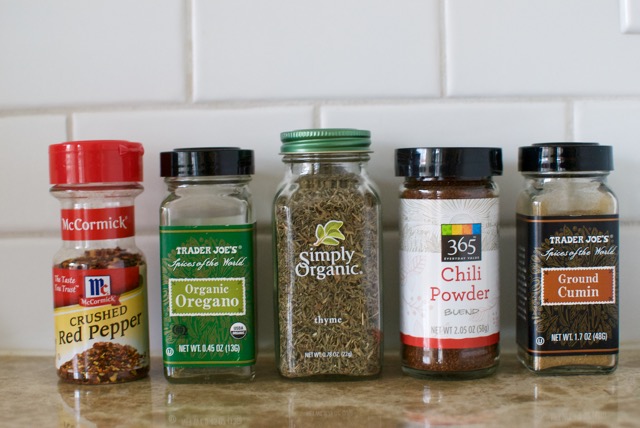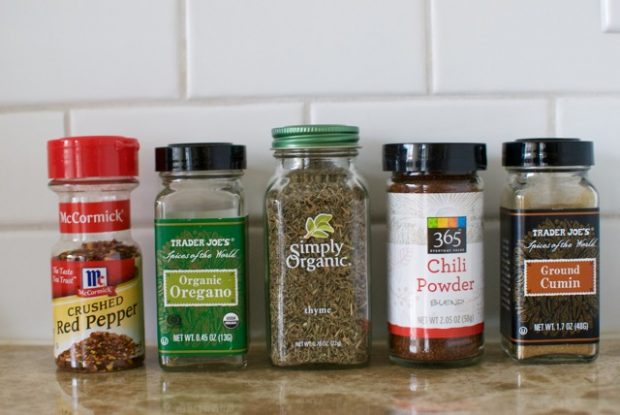 Crushed Red Pepper. I'm not a big black pepper fan, so when I want to add heat to soups, sauces, pasta, pizza, or avocado toast, these spicy little flakes do the trick – and they can be added at the end of cooking after I've served the kids.
Oregano. Every Italian and Mexican dish I make includes this robust herb. For Mexican food, I often combine it with cumin and/or chili powder. For Italian food, it's great combined with thyme and/or basil.
Thyme. Great for Italian and French dishes, and really anytime you want to add flavor to a soup or sauté but aren't sure what to use. Thyme is key in the lentils I make every week, and I love combining it with lemon juice and/or a little fresh rosemary in poultry dishes.
Chili Powder. The way to achieve a deep, robust flavor with a little heat. Can't make a good chili without it, in my opinion. Also great when combined with honey, sugar or chocolate for sweet & spicy nuts, or a rub on beef or chicken.
Cumin. I probably use cumin more than any other spice. It's the main flavor in our favorite Red Lentil Soup, and what I add to tacos (fish, meat or bean) enchiladas, Indian food and more.
The Sweet
Cinnamon. Who can live without cinnamon? From everyday oatmeal to fruit dip to cookies to homemade pumpkin spice lattes, cinnamon is a crucial component to any spice cabinet.
Nutmeg. You don't need much nutmeg to create great flavor. This spice is key in my homemade granola, in these pancakes (replace the cardamom for something different) and lightly sprinkled in smoothies.
Pumpkin Pie Spice. You can make this stuff yourself, but I use at least a jar every fall in everything from pumpkin ice cream sandwiches to pumpkin smoothies to pumpkin bread, and more – so I think it's worth buying. Mix with mashed sweet potatoes and maple syrup for a fab fall side dish!
Vanilla extract. I go through a LOT of vanilla. Cookies, brownies, blended coffees, smoothies, and just about any sweet recipe that I feel lacks "depth" gets a splash of vanilla. It can easily take a flavor from flat to fabulous.
Any other spices that your family can't live without? Please share!